📅 Delay Next Order
Don't need a refill right now? No problem, we know stockpiling isn't great. 
1. LOGIN to your Roman Account
2. Scroll down to "Delay Order"
3. Choose "Delay 2 Weeks" or Delay 1 Month and Confirm
Account Home
Scroll down to see when your next shipment is scheduled to start processing. Click "Delay Order".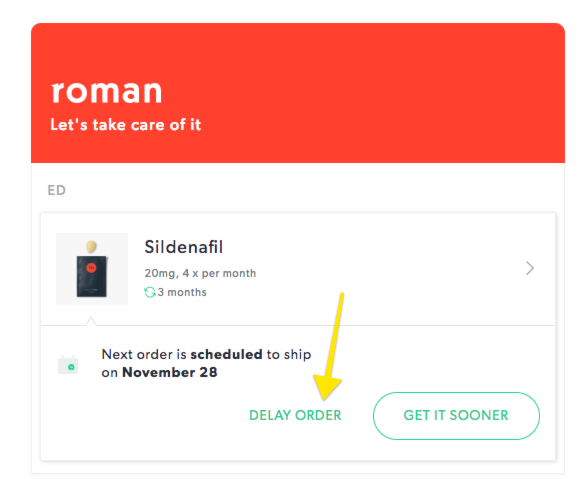 Select Length of Delay
Decide if you want to delay your next shipment by 2 weeks or 1 month. Remember, the date listed is the date your order will start processing. Shipments usually arrive 5-7 days after they start processing. 

If you want to delay your next shipment by more, please email support@getroman.com with the exact date you would like your next refill to start processing and we can take care of the rest. 
Your prescription is valid for 1 year, so if you change your mind or you're running low and need to order more, you can always "Order On-demand" as needed.